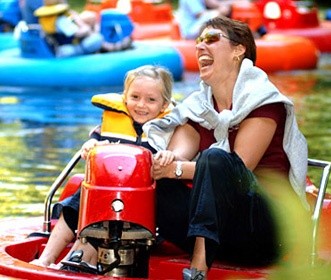 Woodlands Family Theme Park
The largest Family Theme Park in the South West has 11 action packed Playzones with all weather family fun to make your family day out special. The Cyclone Canyon Zone has 3 electrifying watercoasters, the 500m Toboggan Run and a sweet ride for little ones. There's a comfortable café, tiny trikes and the big interactive Wild West Village all in one zone. Experience white knuckle rides like the high flying Swing Ship and pulse pounding Avalanche.
Its hold your breath time as Dinosaurs have arrived at the 90 acre adventure park in Devon. Drive man sized tractors past baby Pteradactyles cuddling up to giant mum in the Dinosaur Farm. Look for giant eggs hatching in the Maternity wing and encounter Jurassic baby monsters round every corner.
Explore indoor Fun Factories with four great rides including the stomach churning Trauma Tower and Soft Play Centres for little ones. Blast balls at buddies in the two Alien Planet Arenas and ride the Circus Train.
Discover cuddly creatures and exotic animals, birds and insects at the Zoo-Farm, there are favourites for everyone.
Then watch the great Grey Owl gliding and hawks diving in the Flying Displays at the Best Falconry Centre in Devon, UK.
Woodlands Family Theme Park is a fantastic money saver with four days rolled into one. Families can save 20% if they buy tickets online. All the 11 action packed Playzones and the 16 family rides are included in the cost. The 18 challenging holes of the Safari Adventure Golf is well worth the mini charge because it's so much better than crazy golf. Included in your great day out are live Entertainers during school hols, TV character days and lots of Events from Easter to Halloween. There's probably too much to do in one day but don't worry, upgrade to a 7 day wristband ticket and get 6 more days FREE.
Whether it's wet or dry Woodlands is special for all age groups. Bring your Caravan or tent to the 5 star Woodlands Grove Caravan Park and the theme park is free. www.woodlandsgrove.com
Winter: indoor areas open weekends & Devon school hols.
Buy Tickets
Cafe.
Toilets.
Wheelchair access.
Lost children announcer.
First aid.
Cash machine.
Parking.
Phone box.
Lockers.
What's On at Woodlands Family Theme Park
Location
Address:
Location: Totnes TQ9 7DQ
Email: reception@woodlandspark.com
Telephone: 01803 712598
Website: www.woodlandspark.com

Copyright © 2023 Devon Attractions | Powered by DigiTickets
Advertise With Us