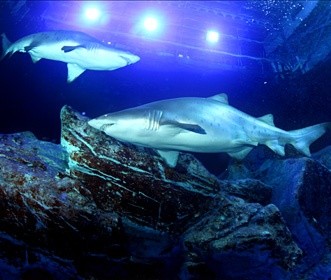 National Marine Aquarium

Visit the UK's largest aquarium attraction and be amazed by our fascinating underwater world.

The National Marine Aquarium was the first aquarium in the United Kingdom to be set up solely for the purpose of education, conservation and research. It remains Britain's foremost aquarium and in the six years it has been open it has attracted over two million visitors through its doors and thousands of enquiries by letter, telephone, fax and email.

The National Marine Aquarium is now firmly established as a source of reliable and accurate information and is a regular adviser to many newspaper, magazine, radio and television projects - the BBC's 'Blue Planet' Series is perhaps the best known.

With the world's oceans facing ever more threats from our activities it is important to understand the vast stretches of water that cover 70% of our planet. We exploit them for mineral, power and food - we take but we give little back, we treat the sea as a huge treasure chest that will always provide.

The National Marine Aquarium is a registered charity committed to promoting a sympathetic understanding of the sea through programmes of education, conservation and research.

Beat the queues and save money - Buy your tickets online.
Buy Tickets
Adult £13.75
Child (4 -15 years old inclusive) £9.75
3 years old and under FREE
Senior Citizens £10.50
Students £10.50
Cafe. Children's play area. Disabled parking. Disabled access. Toilets.
What's On at National Marine Aquarium
Location
Address:
Location: Plymouth PL4 0LF
Email: enquiries@national-aquarium.co.uk
Telephone: 0844 893 7938
Website: www.national-aquarium.co.uk

Copyright © 2023 Devon Attractions | Powered by DigiTickets
Advertise With Us