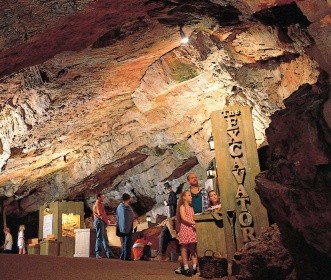 Kents Cavern
Kents Cavern is a spectacular natural cave on the coast of South Devon. The cave is only a short walk from Meadfoot beach and the beautiful South West Coast Path. It is easy to access by foot, by coach and public transport and is open for organised school visits all year.

Undoubtedly Kents Cavern is one of Britain's most special caves. The incredible geology and rich archaeological heritage of the cave has been astounding scientists and visitors alike for centuries.

Records show the mysteries of the caves have been enticing explorers to venture into their depths since 1571. However, archaeological evidence and research reveals that people and animals have been visiting the caves for hundreds of thousands of years.
Buy Tickets
Kents Cavern is open every day


Contact Details
Kents Cavern Ltd
91 Ilsham Road, Torquay, TQ1 2JF
Company reg. in UK No: 00657372
VAT no: 141 2435 10
Shop. Cafe. Car parking. Pushchair access.
What's On at Kents Cavern
Location
Address:
Location: Torquay TQ1 2JF
Email: caves@kents-cavern.co.uk
Telephone: 01803 215136
Website: www.kents-cavern.co.uk

Copyright © 2023 Devon Attractions | Powered by DigiTickets
Advertise With Us