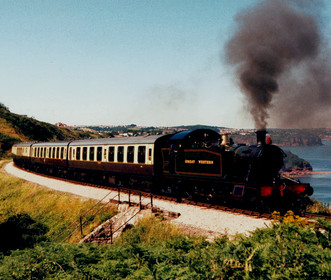 Dartmouth Steam Railway & River Boat Company
The Dartmouth Steam Railway and River Boat Company are unique in offering combined steam railway, river and sea adventures for days out in the South Hams and English Riviera. Our Jubilee Pass Travel Card, (similar to London's Oyster Card), enables you to enjoy every excursion we have on offer!
Our steam trains travel along the most spectacular coast between the seaside resort of Paignton and the beautiful village of Kingswear which sits proudly opposite the pretty Port of Dartmouth.
Our river boats run excursions on the stunning River Dart and offer daily scheduled services to the historic town of Totnes and regular services to the picturesque villages of Dittisham.
The 'Jubilee Pass' gives you unlimited 'hop on, hop off' travel on our Steam Railway and River Boats for a period of up to 5 days. Designed to give you ultimate freedom, leave your car at home and take the river, rail or bus to your desired destinations. Our unique services criss cross the stunning River Dart, the English Riviera and Salcombe.
Buy Tickets
Limited disabled access. Refreshments. Shop. Visitor Centre. Dog friendly.
What's On at Dartmouth Steam Railway & River Boat Company
Copyright © 2023 Devon Attractions | Powered by DigiTickets
Advertise With Us