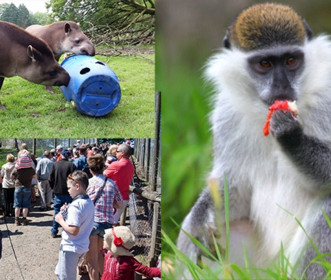 Dartmoor Zoo
Set in 33 acres of beautiful woodland with some stunning views of the surrounding countryside and a fantastic collection of animals, Dartmoor Zoo is a unique family day out in the beautiful South Hams of Devon.
Immerse yourself in a fun day out with the kids: see the big cats feed, hear the wolves howl and feel the snakes wriggle through your fingers in Close Encounters.
Follow the daily timetable of events including public talks at feeding times and animal encounters, with falconry displays and kids activities during the holidays such as quiz-trails and face-painting. And when you need a rest, visit the Jaguar Restaurant for a freshly prepared lunch or a hot drink and delicious cake made on site.
Animal attractions include tigers, lion, lynx, cheetah, bears, wolves, tapir, capybara, racoons, meerkats, monkeys, a fantastic collection of bugs and reptiles and much more making Dartmoor Zoo a unique family attraction within easy reach of Plymouth.
The Zoo works very hard to preserve its beautiful woodland environment. As a consequence it has plenty of natural open spaces for family fun where the kids can run free. Visitors are also very welcome to bring a picnic and simply enjoy the surroundings.
Dartmoor Zoological Park came into being in its current form in 2006, when the Mee family came across Dartmoor Wildlife Park, a dilapidated zoo with a poor reputation and in massive financial difficulty. Rather than running a mile, the family were struck by the fact that if a purchaser couldn't be found, the vast majority of the animals would have been destroyed. They forged forwards, bought the zoo, saved the animals, and fought to get the zoo ready to re-open which it finally did in July 2007 under the new name of Dartmoor Zoological Park.The story was documented within the film 'We Bought A Zoo.
The Dartmoor Zoo story is still ongoing, and the latest chapter is, that after a crowdfund which took place at the end of 2014, the zoo has completed the conversion into a charity. This gives the zoo security for the future, and enables Benjamin's dream of turning the zoo into a centre of excellence for research, conservation, and education to come one step closer. The zoo is well on the way with incredible education and research departments, and ties with many universities, including Plymouth University.
Buy Tickets
The zoo is open from 10am to 4pm, 7 days a week.
What's On at Dartmoor Zoo
Location
Address:
Location: Dartmoor Zoological Park, Sparkwell, Plymouth, Devon PL7 5DG
Email: office@dartmoorzoo.org
Telephone: 01752 837645
Website: www.dartmoorzoo.org

Copyright © 2023 Devon Attractions | Powered by DigiTickets
Advertise With Us